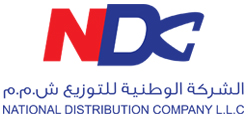 National Distribution Company LLC is an affiliated and extended arm of M/S Hamad Bin Hamood Al Amri & Sons Trdg.Co.LLC., Located in Muscat.

Our Mission: Value based focus on the development of all the aspect instead of' one dimensional growth'.

Our Vision: National Distribution Company strives to be the best in class within the distribution companies in Oman by adopting holistic approach towards society.

We are sole distributor for the following well known brands for the Oman market:-
Dhofar Farms: Instant Milk powder
Family 2000 Detergent powder 10kg, 20 kg
Anwar detergent powder 10 kg
Family 2000 Dishwashing liquid
Family 2000 Bleach
Nakha –Honey, Spices, sugar, pulses
Al Wataniya Tuna Fish
Al Isteqaama Tuna Fish
Al Bustan Basmati Rice
Diwan Basmati Rice
Wadi Al Jabal Basmati Rice
Samiya Rice
Rana :Hot sauce and ketchup, Vinegar
Khazan canned food
Basak Instant & cream soup
Royalty Drink
Royalty Ginger Drink
Yoki Brand Frozen Food
Mulberry Rice
Nakha Rice
Our channels of distribution:-
Hypermarket
Retail
Wholesale
Out of home
Our Sales Force
Hypermarkets: 5 Key Account Representatives
Merchandisers: 5
Van Sales Man: 5
Wholesale: 2 Wholesale Representatives
OOH: 1
Asst Sales Manager:1
Oman Universe:
Hypermarkets/Supermarkets: 100
Retail (Groceries): 3500
Wholesalers: 50
OOH: 600
Total: 4250.
Currently we are covering 60% of the Oman Universe.
For more details please visit NDC website